The junca Platform project, which is revolutionizing WEB 3.0 in Asia, finally released the first version of its comprehensive financial application "junca Platform" on April 12, 2022!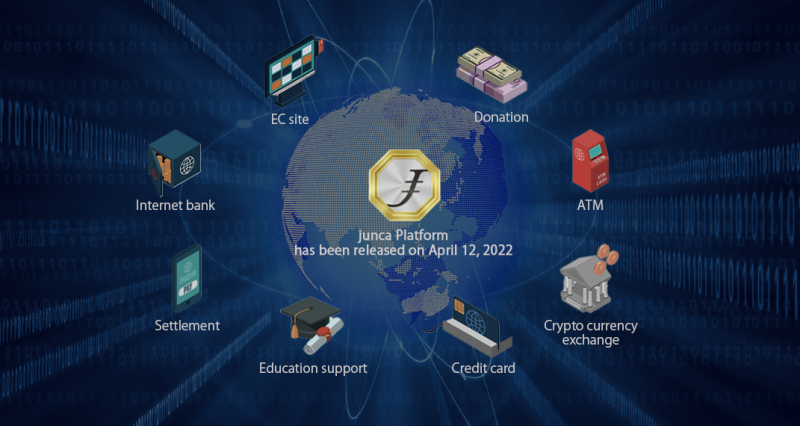 Thank you for your continued support of our project. junca Project is pleased to announce the release of "junca Platform", a financial application utilizing blockchain technology.
We are committed to solving economic and distribution issues in the Philippines and other Asian countries. The junca Platform app is the first comprehensive financial app for the Junca project, and will be updated over the next 18 months.
Click below to download the junca Platform application.(currently only for iOS)
In addition to the new design includes, we have made significant improvements to the wallet to enhance its functionality, including the following
・Removal of restrictions on remittance of JCC tokens
・Addition of ERC20 tokens
・Real-time token price display
It is designed for the further development of the Asian economy by enabling domestic and international remittances, ATMs, cards, and wallets for exchange and settlement.
・Domestic and international remittances
・Issuance of credit/debit cards
・Opening an account linked to a credit/debit card
・QR code payment
・Actual purchase of goods through all means of payment
We plans to provide a product that can become a new standard as a daily companion for users by enabling them to complete financial activities in their daily lives through a single application.
◯About junca Platform
While economic development in the Asian region is accelerating day by day, it is still true that many countries are still inferior to Western countries. Therefore, junca group aims to contribute to the "economic development of Asian countries," and in 2020, in partnership with the Overseas Filipino Worker (OFW) management and legislative body in the Philippines, we will launch the "junca Platform" project.
◯junca Platform Concept
junca Platform is based in the Philippines, a country with a history of Western strongholds and activities in Asia. We aim to further the economic development of the Asian region through "blockchain" technology, which is becoming the new standard for fintech services, and to create the "junca economic zone" in the Asian region.
"Contributing to economic reform in Asia will lead to world peace."
Based on this philosophy, we will continue our efforts to further increase the value of human resources by establishing educational institutions, vocational training schools, and scholarship programs, with the aim of fostering human resources in Asia, which is in a state of flux. We are confident that these efforts will lead to world peace.
We will be releasing news from time to time, so please stay tuned. Thank you for your continued support.
2022, 4/12
junca Platform Project Management
Inquiry
juncamember.admin@junca-beauty.com
Website
www.junca-beauty.com
Dextools
https://www.dextools.io/app/ether/pair-explorer/0x372835a9b8c4dc7c24fc49b4221204cf7c965345
Telegram (Group)
junca Platform Fan Group
Telegram (Channel)
junca Platform Official Announcement Channel
Twitter
JCC78549683
Youtube
junca Group
Facebook
JCC Facebook
Reddit
r/juncacash_JCC
Instagram
https://www.instagram.com/juncacash
Linkedin
https://www.linkedin.com/company/junca-platform-project-jcc