1/23 Meeting with NDC, IBPAP and DICT
Meeting with NDC


NDC (National Development Company) is a leading state-owned enterprise that invests in diverse industries and serves as an effective catalyst for inclusive growth, and is the development and investment arm of the Philippine Department of Trade and Industry (DTI). They are committed to enabling industrial development and revitalizing the local economy.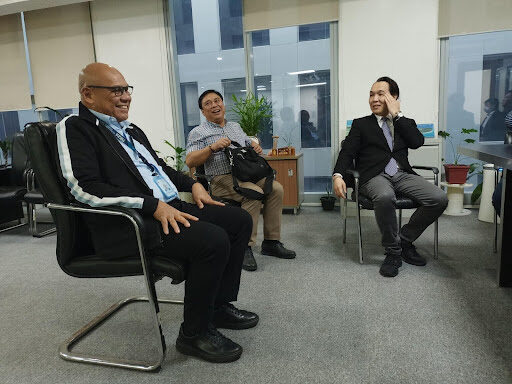 We met with NDC General Manager, Mr. Antonilo DC. Mauricio; Executive Assistant III, Mr. Markley Gil A. Villarin; Attorney V Legal Department, Mr. Benjamin Irineo Jude F. Rabuco III to discuss the use of our proprietary, high-performance blockchain, junca Chain. We shared with them the latest in security technology with ODDS that will be offered globally in the future, especially in the Philippines, and expressed interest in junca's life management business, which provides, develops, and supports technology in health and wellness with a focus on health and the body's regenerative powers. We are planning a partnership next month, so please look forward to that.
Meeting with IBPAP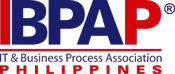 The IT and Business Process Association of the Philippines (IBPAP) is the primary trade body and advocacy group of the country's agile, dynamic, and resilient IT and Business Process Management (IT-BPM) sector. IBPAP also assists investors in setting up operations easily and quickly in the Philippines through relevant research, introductions to key officials, and a series of briefings at each step of the investment process. Initiatives for human resources, business development, knowledge sharing, and networking opportunities are also made available to members as a means of continued support.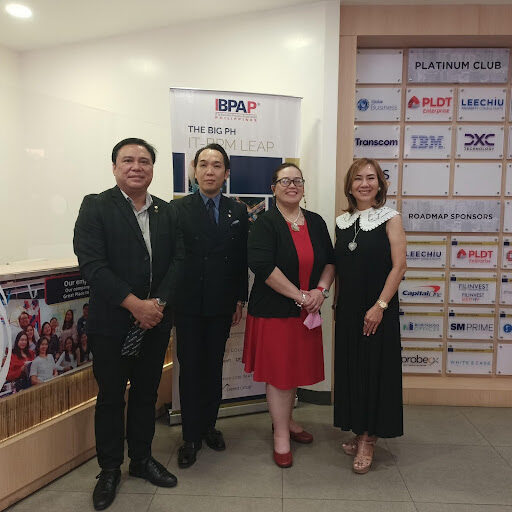 We met with IBPAP Membership Manager, Ms.Ma. Criselda R. Paras and Chief Policy and Regulatory Affaires Officer, Ms.Celeste Ilagan, and they shared with us IBPAP's ongoing business support for human resource development, business development, and networking programs, and expressed their interest in our project, which aims to develop a multifaceted business model for economic development. We will continue to support small and medium-sized enterprises by sharing information and exploring membership opportunities.
Meeting with DICT

The Department of Information and Communications Technology (DICT) is the executive department of the Philippine government responsible for the planning, development and promotion of the country's information and communications technology (ICT) agenda in support of national development. As a part of the government's executive branch, the DICT is committed to providing every Filipino access to vital ICT infrastructures and services, while also ensuring the sustainable growth of ICT-enabled industries that can lead to the creation of more jobs.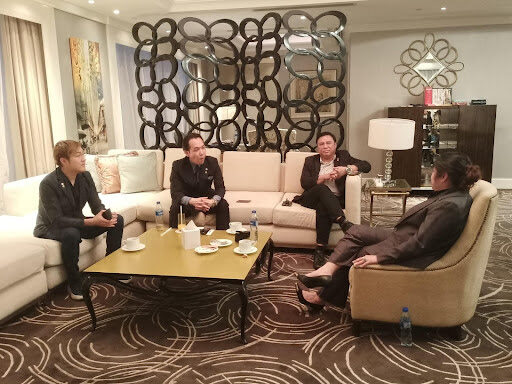 We met with Ms. Anna Mae Lamentillo, DICT Undersecretary for Public Affairs and Foreign Relations, and they advised us on fintech legislation and related information. We will continue to share information and contribute to economic development by utilizing the latest technology and fintech services provided by junca Holdings.
Meeting with junca Holdings Board Members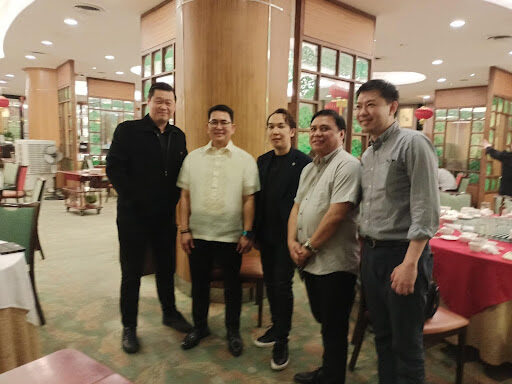 junca Holdings Board Members From the left ; DITO CME Holdings Corp. Chief Operation Officer, ICSB Philippines Founder, Dr. Donald Lim ; TESDA Deputy Director-General, Mr. Aniceto "John" Bertiz III ; junca Holdings CEO, Dr. Hisayuki Nagatome ; Small Business Corporation Board Director, Philippine Franchise Association-PFA Certified Franchise Executive Mr. Bong Magpayo ; Acquasuisse Parfums Founder and Managing Director, Swiss Fragrances Inc. President, Mr. John Chung
Meeting with junca Holdings board members to discuss progress and future developments in the IT and FinTech services, human resources and education support, and life management sectors, and had a lively discussion about future challenges and measures to further support small and medium-sized businesses and contribute to economic development.
junca Holdings will continue to promote its efforts based on the philosophy that "contributing to economic reforms in Asia will lead to world peace". Thank you for your continued support.
2023, 1/31
junca Platform Project Management
Inquiry
juncamember.admin@junca-beauty.com
Website
www.junca-beauty.com
Dextools
https://www.dextools.io/app/ether/pair-explorer/0x372835a9b8c4dc7c24fc49b4221204cf7c965345
Telegram (Group)
junca Platform Fan Group
Telegram (Channel)
junca Platform Official Announcement Channel
Twitter
JCC78549683
Youtube
junca Group
Facebook
JCC Facebook
Reddit
r/juncacash_JCC
Instagram
https://www.instagram.com/juncacash
Linkedin
https://www.linkedin.com/company/junca-platform-project-jcc