Meeting with junca Holdings to partner with TESDA has been posted on TESDA's official page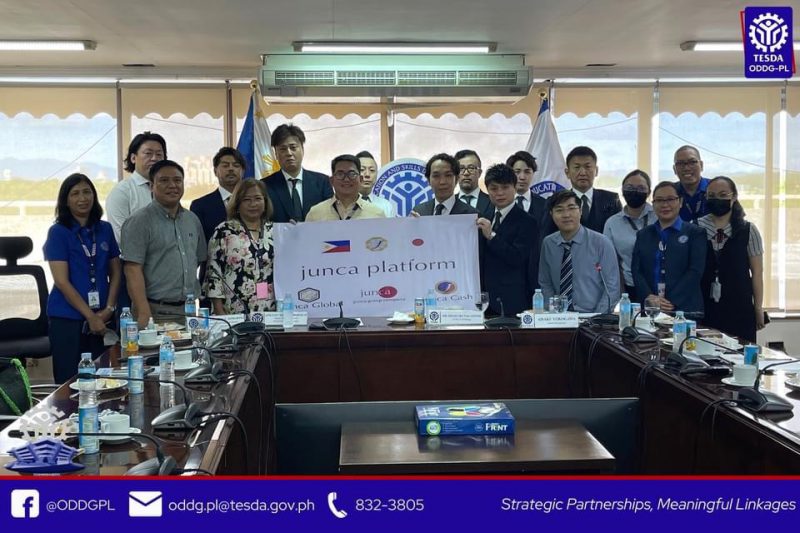 Thank you for your continued support of our project.
On May 31, Dr. Nagatome, CEO of junca Holdings, participated in a meeting with TESDA (Technical Education and Skills Development Authority) and ODDS Technology Limited at the TESDA Board Room in Manila, Philippines, and the meeting was posted on the official TESDA website.
Click here to visit TESDA's official page
TESDA Partnerships & Linkages
During the exploratory meeting held, Deputy Director-General Aniceto "John" Bertiz III of the Partnerships and Linkages reiterated the importance of having an international partnership to further improve TVET (technical and vocational education and training
) in the country as a continuous response to the challenges posed by the Fourth Industrial Revolution (4IR). junca Holdings is committed to working with TESDA and ODDS Technology Limited to transform the technical education and skills development of Filipino workers and to expand opportunities for Filipinos to learn the latest innovations and work in Japan.
junca Holdings aims to develop human resources in Asia, which will continue to be in a state of flux, based on the philosophy that "contributing to economic reforms in Asia will lead to world peace." In order to achieve this, we will continue our efforts to further enhance the value of human resources by establishing educational institutions, vocational training schools, and scholarship programs. We are confident that these efforts will lead to world peace.
We look forward to your continued support.
2022,6/3
junca Platform Project Management
Inquiry
juncamember.admin@junca-beauty.com
Website
www.junca-beauty.com
Dextools
https://www.dextools.io/app/ether/pair-explorer/0x372835a9b8c4dc7c24fc49b4221204cf7c965345
Telegram (Group)
junca Platform Fan Group
Telegram (Channel)
junca Platform Official Announcement Channel
Twitter
JCC78549683
Youtube
junca Group
Facebook
JCC Facebook
Reddit
r/juncacash_JCC
Instagram
https://www.instagram.com/juncacash
Linkedin
https://www.linkedin.com/company/junca-platform-project-jcc