junca Platform App has been released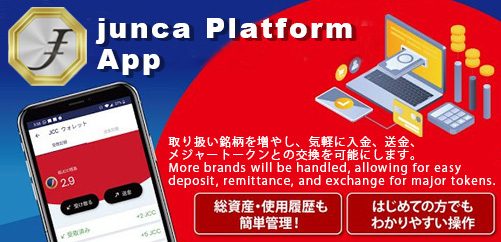 Thank you for your continued support of our project.
We are pleased to announce that the JCC WALLET application, which we recently announced the renewal of, has been renewed and released as the junca Platform application in order to link it with our Fintech services.
The attached image is a demo screen of the wallet function of the "junca Platform App". It is not a large-scale exchange, but rather a wallet app that is easy to use, and will increase the number of issues it handles in addition to JCC and ETH, enabling easy deposit, remittance, and exchange for major tokens.
In addition, security has been further strengthened, and we have established our own security system to protect your assets and maintain sound operations.
In the future, payment and other services will be added to this application as needed. We are also developing the app to make it as easy as possible for beginners to operate.
We will be making news releases as needed, including the expansion of our own chain, so please stay tuned.
Thank you very much for your continued support.
Feb. 26, 2022
junca Platform Project Management
Inquiry
juncamember.admin@junca-beauty.com
Website
www.junca-beauty.com
Dextools
https://www.dextools.io/app/ether/pair-explorer/0x372835a9b8c4dc7c24fc49b4221204cf7c965345
Telegram (Group)
junca Platform Fan Group
Telegram (Channel)
junca Platform Official Announcement Channel
Twitter
JCC78549683
Youtube
junca Group
Facebook
JCC Facebook
Reddit
r/juncacash_JCC
Instagram
https://www.instagram.com/juncacash
Linkedin
https://www.linkedin.com/company/junca-platform-project-jcc